Phase 3 of ActionVFX is here, and we're celebrating with a 50% off sale!
The company is moving into Phase 3, and we can't be more excited! From day one, our goal has always been to produce the best VFX stock footage in the industry. Phase 3 is no different.
Let's answer some of your questions!


Phase 3 50% Off Sale!
The sale is
live
! To usher in Phase 3, it's only right we run a two-week sale! The entire library will be 50% off! There has never been a better time to download the
best VFX stock footage elements
available.
The sale ends May 15th at 11:59pm EST. Remember, time flies! Take advantage of the 50% off while you still can!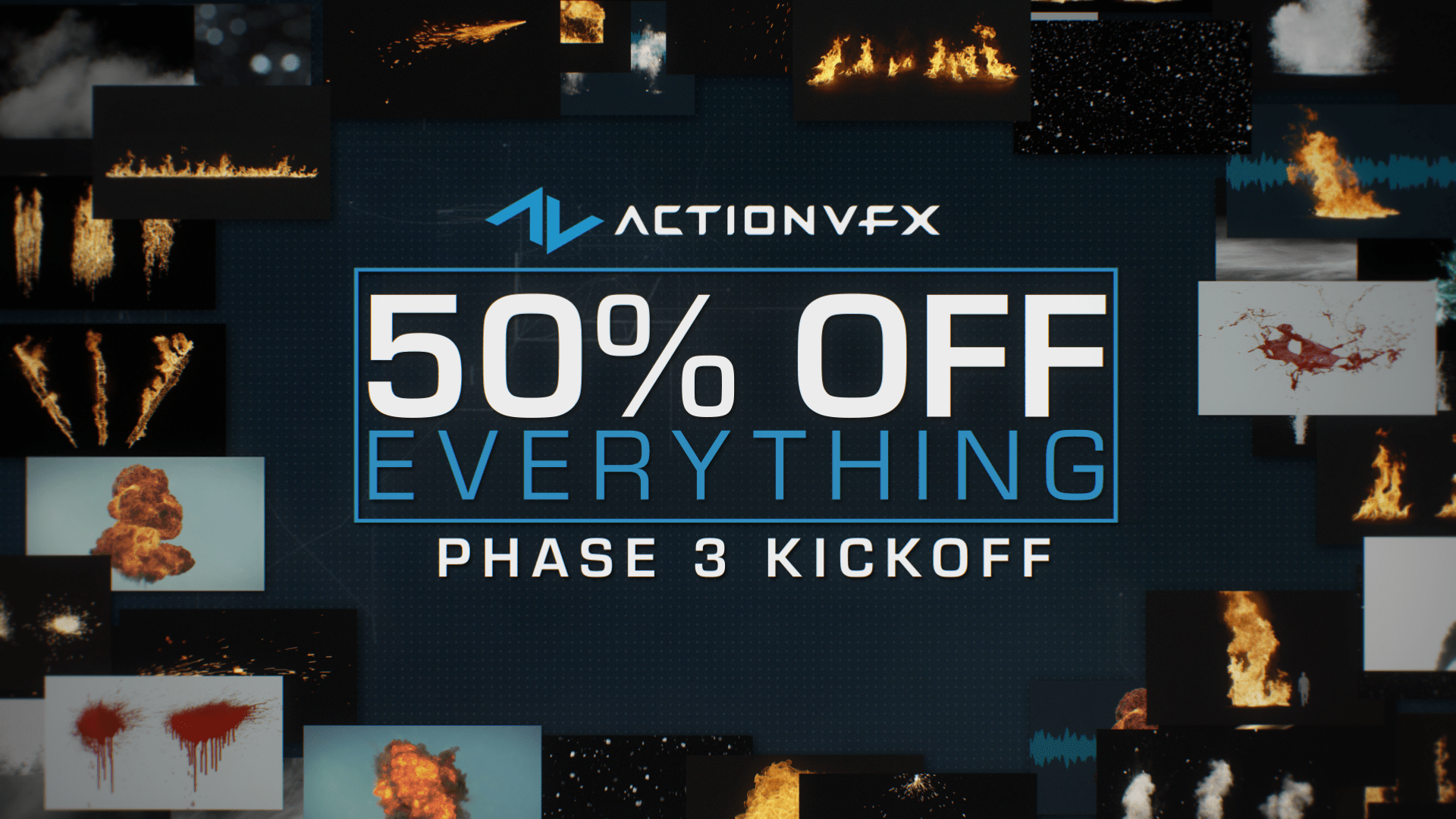 What Is Phase 3?
Since the very beginning, ActionVFX has always been divided into phases. These phases mark points of growth in the company.
ActionVFX began operations in 2016, which kicked off Phase 1, lasting till April 2017. We then entered Phase 2, growing to be the largest VFX stock footage library in the world. We made a promise to release new
Blood & Gore Collections
before moving into the next phase, and we did that!
The company has experienced so much growth over a short three-year life, with now over 2,600 premium VFX elements benefiting industry professionals all around the world. Our efforts now shift to Phase 3, and the future is bright!
What Does The Future Hold?
The future holds exactly what you want to see. When establishing this company, we surveyed the VFX community to find out what users wanted. We're going back to our roots.
We are now surveying to see what
YOU
want. Tell us what you want in our survey that will take only a few minutes to complete. We'll do our best to make it happen.
Take our survey here. We want to hear from you!
First time here? ActionVFX creates action stock footage for VFX and filmmaking. (We also have some great
free stuff
!)
Remember to connect with us on our social networks to stay updated on our latest news, giveaways, announcements, and more!