Today, we're going to be talking with Hollywood stuntman Dave Macomber about his process of pre-visualizing action (and VFX-heavy) sequences for big budget films like
Avengers: Infinity War
and
Rampage
, and how ActionVFX elements play an integral role in bringing his scenes to life.
Without further ado, let's get to it!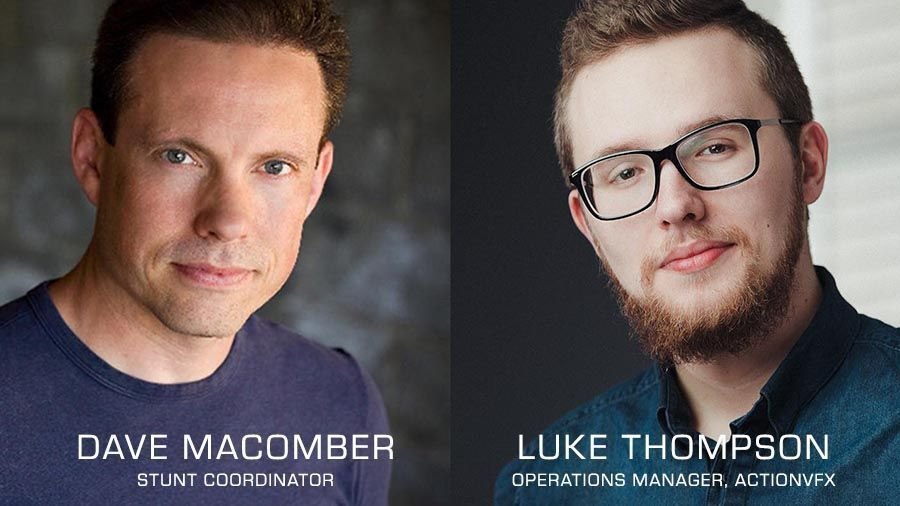 Luke:
Hey Dave, thanks so much for talking with us today. Could you go ahead and give us a little backstory about who you are, and how exactly you got into this line of work? Was there an "Aha!" moment that inspired you to create films or be a stuntman for a living?

Dave: I've always been interested in film and TV, and had considered going into acting while I was a student in Junior High and High school. However, I found a passion in martial arts and went on to have a successful competitive career that dominated my attention for many years, took me away from acting, and set me on a path to own and operate a martial arts school.
Relevant to this discussion, around 2001, I co-produced and co-directed a short Star Wars Fan Film called Duality — it was very VFX-heavy, and I learned various programs specifically to complete the short (primarily After Effects and a 3D package called Electric Image).
Some years later, a friend from the tournament circuit who had become a professional stuntman and stunt coordinator asked if I would be interested in helping on a project he was running. That started the ball rolling for me, and I've been doing stunts ever since.
One of the early projects in my career was the first GI JOE film (where I was the second-unit stunt double for Snake Eyes and part of the fight choreography team under Marcus Young, the Fight Coordinator), and it was on that project that I found a niche as a stunts previz editor, as I was able to lean into the skillset I'd developed on Duality.
Luke: That's awesome! So, when you mention you found your niche as a "Stunts Previz Editor", what exactly are Stunt Previz, and how do they fit into the bigger picture?
Dave: When designing an action sequence, the stunt coordinator is provided with information from a few sources: the script, the director, sometimes producers… then it's up to him and his team to choreograph the action. Often, we'll depart from the page and insert a ton of ideas (quite often we'll design action bigger than needed, knowing it's easier to pare it down once we receive notes).
Stunts previz is a way to convey what that vision for the action will be. The stunt team will shoot and edit their own version of a sequence for approval by the powers that be. Once the action design is approved, the previz is also a tool for making sure that other departments are aware of what the sequence will demand: props, special effects, wardrobe, set dec and so forth.
 
Usually, there will be a guy who's job it is to shoot, edit, and add visual flourishes in post to create the previz — given that this is stunts, though, this person is part of the movie or television show's core team, and will also be a stunt performer.

Luke: In addition to your work on the upcoming Avengers: Infinity War, Rampage, and Black Lightning (dang, you've been busy!), what other cool projects have you had the pleasure of working on?

Better yet, what have been some of your favorites?


Dave: I mentioned GI JOE previously — I was also on the fight choreography teams and was the stunts-previz editor for FAST FIVE, ABRAHAM LINCOLN: VAMPIRE HUNTER, and TRANSFORMERS: AGE OF EXTINCTION, among other projects.
AVENGERS: INFINITY WAR
and it's sequel have been high water marks for me in terms of enjoyment — Greg Rementer is the previz editor on that project under Sam Hargrave (the stunt coordinator and second unit director), and contributing effects to stunts-previz with several other guys was a blast.
I also had the privilege of working on a show called
BANSHEE
which aired on Cinemax, with a fantastic team of guys. Most recently, I coordinated a pilot called
DEADLY CLASS
, which was a ton of fun, and that I'm hoping will get a series order this year.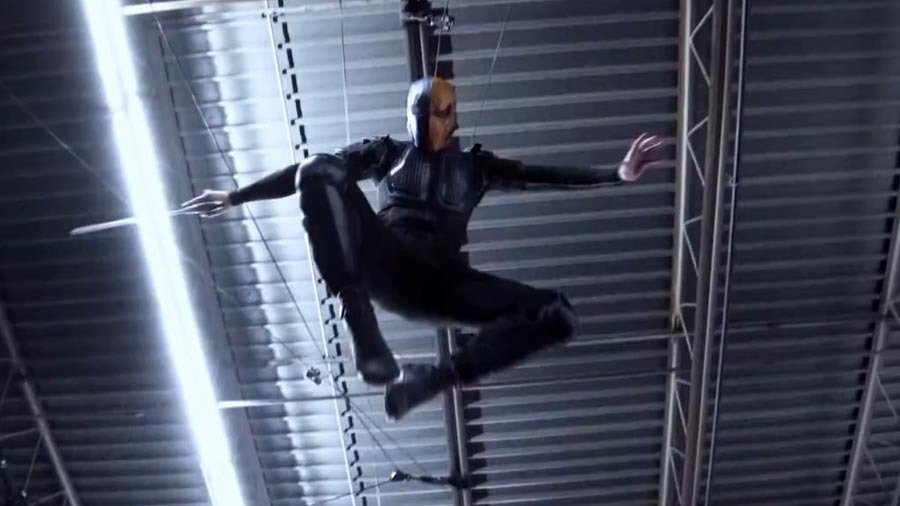 Luke:
I feel obligated to ask this question based solely on the years of stunt experience under your belt, but what has been the single scariest stunt of your career?
Dave: I tested a gag for FAST FIVE which was a wire assisted defender, jumping off a cliff in a rock quarry that was about 170 feet up with about 70 feet of horizontal travel. I have a few white hairs from that.

Luke: Wow, that sounds pretty intense! In full disclosure, I would have cried like a little baby. Haha!

So, somewhat switching gears now, how did you originally find out about ActionVFX and what we do here?


Dave: I believe that it was Loyd Bateman, one of the team members on AVENGERS (there were four of us contributing VFX to the stunts-previz on that show) that let me know about you guys. Like me, he was really impressed with your assets.
Luke: That's really cool! Be sure and thank him for us. :)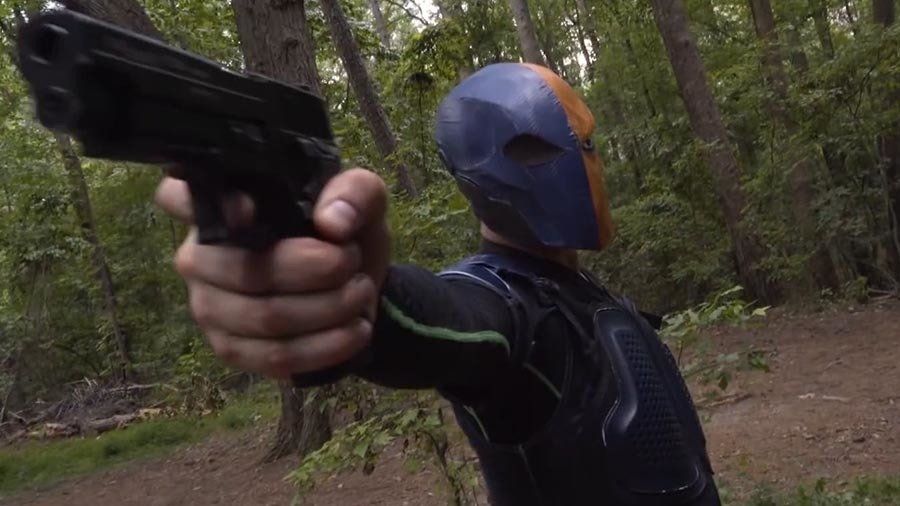 Luke: So, what exactly does the process look like when bringing in ActionVFX elements into one of your projects?Dave:
While I have used the assets for personal projects (shorts and so forth), I do primarily use your assets for stunts previz. My perspective on previz is that it is a sales pitch: the writer and director come to the stunt team with an idea of what they want, and it's up to us to flesh out those ideas into something that hopefully surpasses their expectations while determining the best way to safely accomplish the action. The hope is that, when they see our presentation, they will buy our take on the sequence.
The more clearly that our concept can be conveyed, the more likely it is that they will understand what we are suggesting — so the use of visual effects to illustrate what the final product will look like can be a great benefit.
I was working on a project recently where we needed to complete a previz before the props department had come on board. We purchased a bunch of toy guns and spray paint to make them black (the toys were green and orange).

One of the AD's commented that we didn't need to paint the guns for the previz — but I know from experience that if we had shot the previz that way and presented it, there would have been a moment where the director or the first AD or someone would have pointed at the screen and laughed at the stunt guys running around with green and orange guns.

And in that moment, they wouldn't be concentrating on what they were supposed to be: the ACTION. Painting the guns — and then adding muzzle flashes, smoke, fire, explosions — all those things help sell the concepts and choreography.
Luke: Do you do stunts and compositing, or does someone else composite the effects?

Dave: It's funny — I primarily fall down for a living, but the other half of that living is behind the computer. So yes, I do both the stunts and the compositing, and I find ActionVFX assets great to work with. The resolution and clarity are awesome, I love the formats that you provide, and things like having muzzle flashes from the side, front AND forty-five degree angles are a huge help and time saver. 

Some of your collections I wish I'd had years ago. And some of the stuff you offer for free has even been invaluable to me, as I haven't seen some of them anywhere else! That's part of the reason ActionVFX has circulated around this funny niche community of stunts previz guys.
Luke: I'm really happy to hear that you've found our elements useful for what you do! 
I love that you've been able to find such a specific niche that merges what you're passionate about, with the practical application to make a very successful career out of it. From my own experience, I really feel like that's a huge thing that a lot of people, unfortunately, miss out on.
Based on what you've learned so far, what advice would you give to an aspiring artist who wants to break into the filmmaking industry?
Dave:
As far as doing stunts previz, it's really kind of an interesting track. Stunt performing is definitely not a job for everyone, and the skill level expected from stunt performers is exceptionally high (I have friends in the industry that are world champion athletes, professional car drifters, cirque performers, American Ninja Warrior competitors, etc).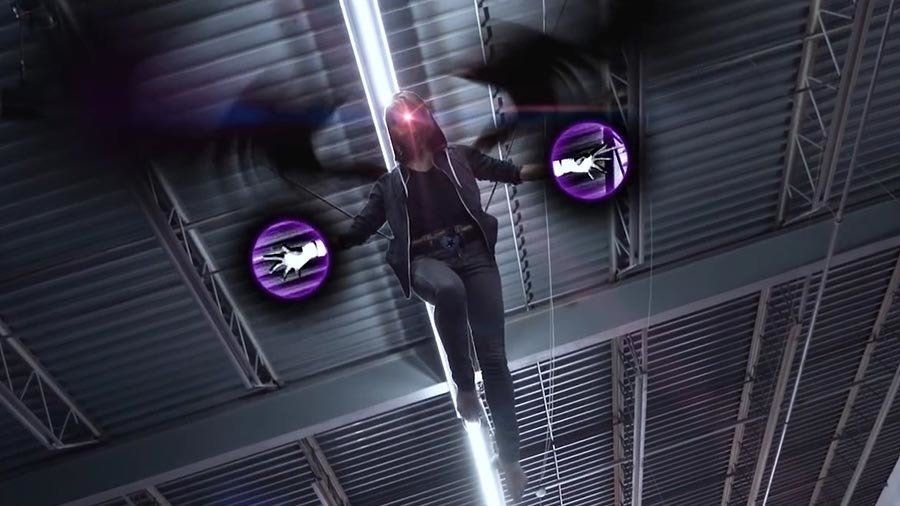 So the first piece of advice is to hone those skills to the highest level you can. The bar is very high for people that want to make a living at this job. 
With respect to doing visual effects in previz, I think it's important to remember your goal: to suspend disbelief for a director to such a degree that he or she can see the vision that you're trying to provide.

Effects should blend somewhat seamlessly. With that having been said, we don't generally have a ton of time when doing this kind of work: you're going to have a day or two to get it done and turned in, so developing a work-methodology that is very streamlined is key.

Find that balancing point for every shot you do: being good enough, but fast enough. That's a tough one.
Luke: While I feel like I'm a bit too late in the game (and not physically gifted enough) to become a Ninja Warrior or a Cirque Performer, thank God, I still have a chance to make it on the filmmaking and VFX-side of things! Haha.
Dave, thanks so much for taking the time to talk with us about your super cool job inside of our industry, and sharing with us your unique perspective on pre-visualization in the filmmaking process. Until next time!
First time here? ActionVFX creates action stock footage for VFX and filmmaking. (We also have some great
free stuff
!)
Remember to connect with us on our social networks to stay updated on our latest news, giveaways, announcements and more!
Facebook
-
Twitter
-
Instagram
-
Linkedin