Ready to take the next step and bring your character animations to a new level?
Header Source:
Ziva Dynamics
Today we're going to explore a great tool for achieving realistic muscular physics for CG characters in Maya —
Ziva VFX
by
Ziva Dynamics
.
Not only can Ziva VFX give you incredibly convincing character animations, but its true magic lies in the significant time savings it can yield for each shot.
Why Use Ziva VFX?
Ziva VFX specializes in advanced muscle simulations, enabling you to have dynamic soft tissue physics in your character renders. With Ziva, you can avoid spending all that time sculpting every minute detail of your character's muscles to try and make them appear as realistic as possible from scene to scene.
"Achieve character effects that rival those of the world's largest Visual Effects and Feature Animation studios." — Ziva VFX
Over the last decade, most animation programs have come quite far in terms of advancing skeletal physics. What's great about Ziva Dynamics is they have devoted their time to drastically improve the animation quality of soft tissue, while at the same time reducing the time it takes to perform complex soft tissue animations.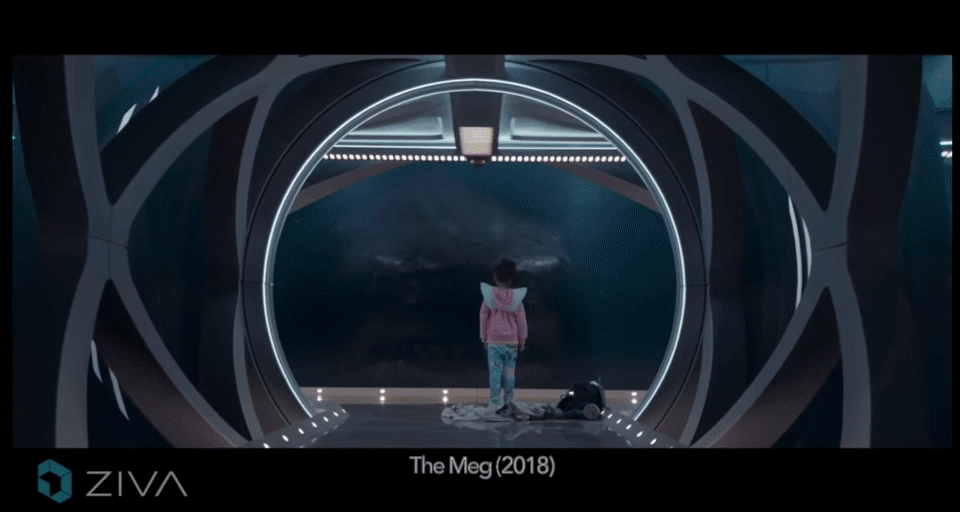 If you've seen
The Meg,
you'll know part of what made the VFX so exciting was the organic complexity to the shark's movements. There were many scenes where the shark's muscles flexed, twitched, and responded so realistically to each movement the rest of its body made, it was easy to forget the shark wasn't real.

Ziva VFX has also provided soft tissue physics for other recent box office hits, like the ones in the reel below.
The fact that major blockbusters are using Ziva VFX is a testament to the quality and sheer power VFX artists have with the plugin.
How Does Ziva VFX Work?
Once the plugin is installed in Maya, simply model the muscles you want. Ziva allows you to use them as Ziva Tissues, which then behave intelligently based on the animation properties you assign and the locations you've linked them to, in relation to the character's rigged skeletal structure.
When your character's skeleton is animated, the tissue layers respond appropriately. You can also add multiple layers of tissues onto the ones you've already built until you get the results you're looking for. Also, built-in cloth solvers and skin wrinkling give your soft tissue VFX an added touch of realism.
"Muscles preserve volume under force and collision, and the tissue will bend, stretch, crease and jiggle with the realism audiences and experts expect."
Ziva VFX
According to their
website
, here are four major benefits of Ziva VFX.
EMBEDDED FEM
All attributes computed with consideration to the embedded surface, simplifying the creation of tetrahedral models.
ADAPTIVE TETRAHEDRAL MESHING
Adaptive tetrahedral meshing makes it easy for artists to paint localized resolution wherever needed.
MATERIAL PROPERTIES
Assign real-world material properties to make simulated solid objects behave just like their real-world counterparts.
MUSCLE EXCITATION
Make your virtual characters' muscles flex and fire automatically with muscle fiber flow and automatic excitation.
How to Get Started with Ziva VFX
There are several plans available depending on your studio, but their surprisingly affordable
indie plan
is only $50 a month, or $500 annually per license. You can start out with a
free trial here
.
They also offer some great
free assets
to help you get started. You can use these pre-rigged models to experiment with soft tissue physics for your project, and you can even get ideas for exaggerating muscle movements with your characters, like the "Jellyphant" below.
They also have a helpful
training database
, as well as a growing
community
you can join and learn from.
Flex your visual effects muscles better and faster with Ziva VFX!
First time here? ActionVFX creates action stock footage for visual effects and filmmaking. (We also have some great
free stuff
!)
Remember to connect with us on our social networks to stay updated on our latest news, giveaways, announcements, and more!