Reporting the progress from our latest shoot
The team at ActionVFX are always listening to things you are looking to use in your next projects.
Our goal is to provide you value, not only with creating high quality paid elements, but also creating high quality FREE elements for your VFX library. This is why we set out to provide you with the upcoming Collection of Bullet Holes (for free!)
Check out this quick video that shows how we went about creating this Collection!
As usual, we made sure to survey our friends on the ActionVFX User Group page to see what was most sought after when it came to bullet hole textures. Once we gathered a fair amount of data, we went in
search of the right materials in order to get the perfect look of each bullet hole made.
Our plates consisted of glass, metal, aluminum, wood, concrete, and a few other things that we came across at a local salvage yard. Now that we had all the right ingredients to create a high quality masterpiece, all we had to do was unload as much ammunition as possible into each one of these materials.
We loaded everything up in the van and headed to a range in the sticks of East Tennessee.
We spent an entire day of shooting each material at different distances and angles to get a variety of textures for you to use in your projects. You may think, "That sounds fun!" We would all tell you that it was indeed a blast! But we will also tell you that it was a lot of work to gather everything we needed from concept to final product. The process also included a lot of sunburn..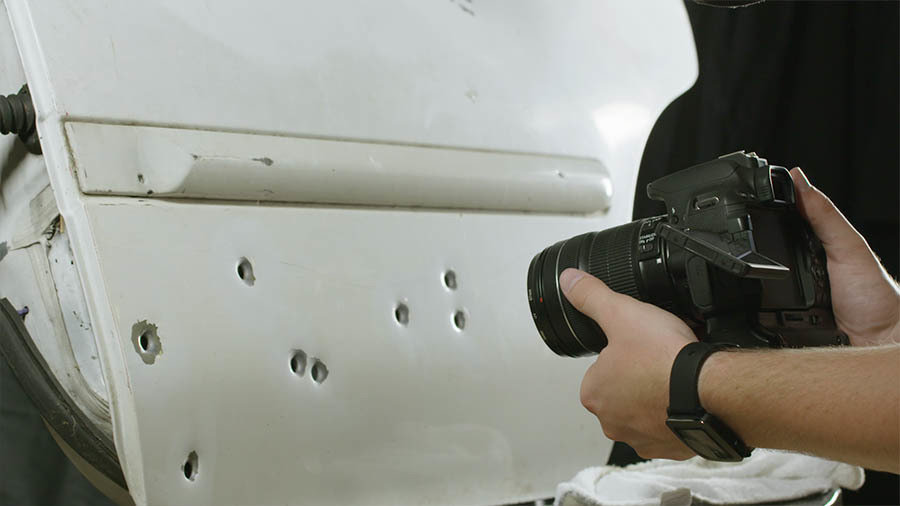 Another day was spent in the studio capturing the stills with the proper lighting and angles, so you have to do less work in post. We also shot them in RAW to retain the most data.
After spending two days in the field, Luke spent another four days in the office cleaning up and exporting the textures.
When it's all said and done, these textures will pair up really well with the rest of our brand new Collections that we will be cranking out before the end of the year. So stay close by!
Remember to connect with us on our social networks to stay updated on our latest news, giveaways, announcements and more!
Facebook
-
Twitter
-
Instagram
-
Linkedin