Here's all the information you'll need to save big on our VFX Elements library!
This is a busy Black Friday season for ActionVFX, so we want to lay it all out for you so there is no confusion on the exciting events taking places! This blog post covers the sale length, how you can save 55% on products, and the special giveaway that can only be found at ActionVFX!
Are you interested yet? Let's see what's happening!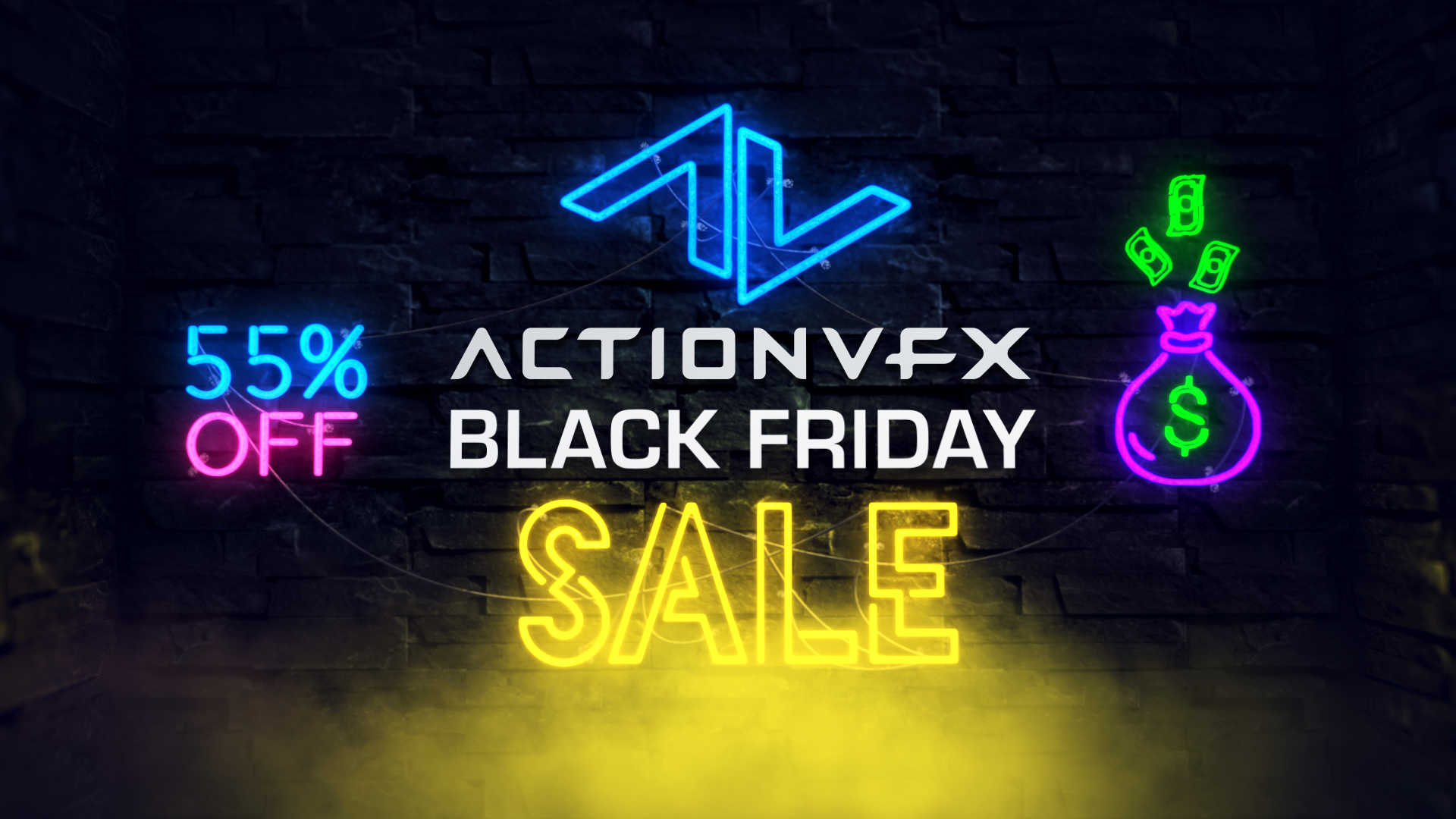 Black Friday Sale Length & Discounts
In total, the sale will last from November 28th at 8:00 pm EST until December 6th at 11:59 pm EST. There are important dates within this time frame to consider! For simplicity, I've put it in bullet points below.


Sale begins Nov. 28th at 8:00 pm EST, with the entire product library being 55% off
The 55% discount offer will stop after 24 hours, ending Nov. 29th at 8:00 pm EST
The sale will continue Nov. 29th at 8:00 pm EST through Dec. 6th at 11:59 pm EST at 50% off
Have a busy Thanksgiving holiday and won't be near your computer to download your favorite assets? That's no problem! From any device, you can log on and purchase the products you want, and they'll be added to your profile to wait to be downloaded at
any point in time
.
In summary, you can get our
VFX elements
at 55% off the first 24 hours of the sale, and then 50% off the remaining time in the sale. Make sure to take advantage of the 55% off price cut in the first 24 hours!
Win A BOXX Computer
We're excited to announce that we're partnering with BOXX for this sale! BOXX workstations are high-performance machines that are perfect for your editing and heavy-duty VFX compositing.
If you spend
$100 or more
during our Black Friday Sale, your name will be entered in to win a $3,000+
APEXX A3
system! Read up on the
rules and guidelines
.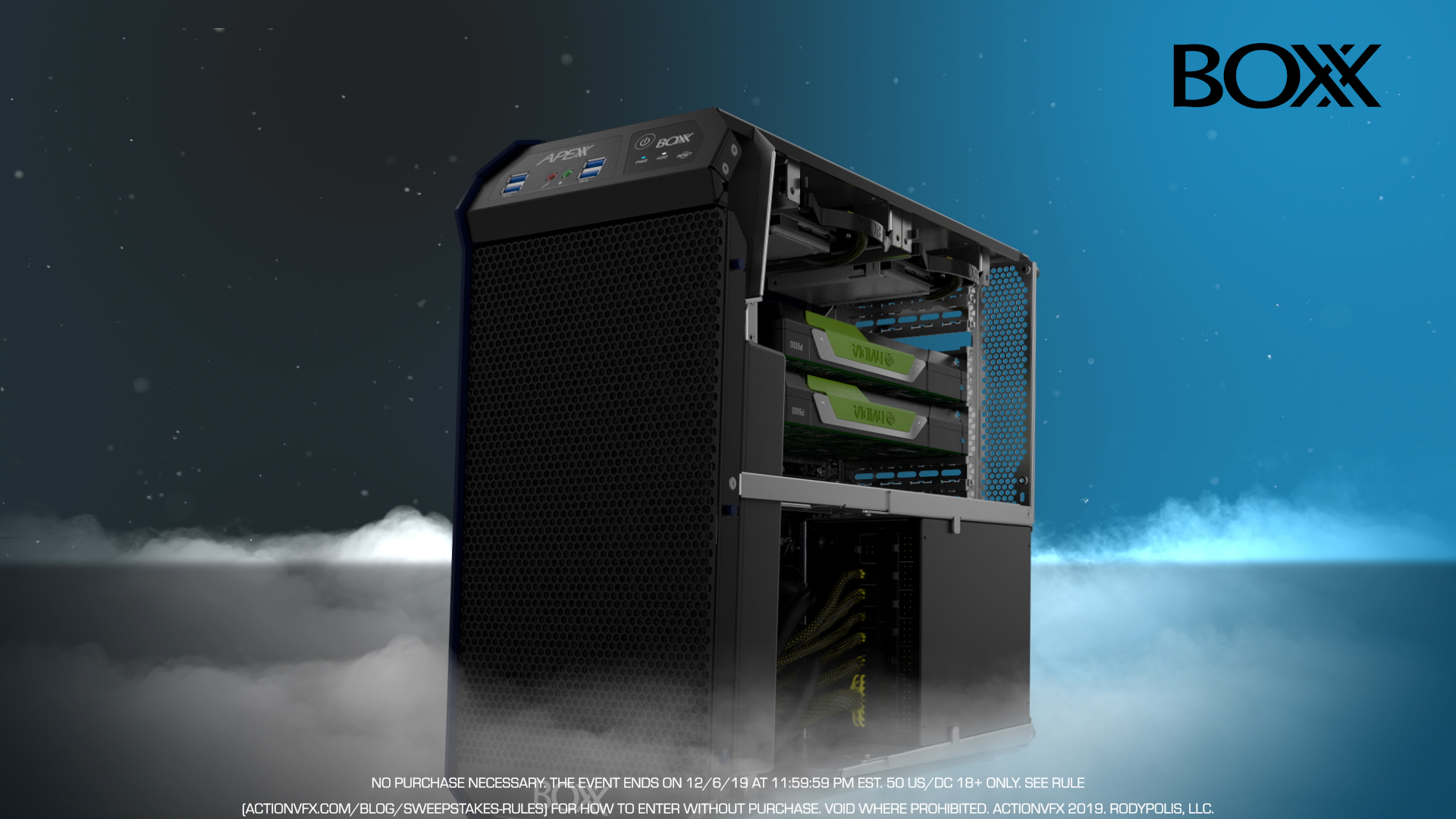 Featuring the heralded AMD Ryzen™ 3000 Series processor, the BOXX
APEXX A3
is a compact powerhouse purpose-built for demanding 3D content creation workflows. In addition to the blazing fast CPU, A3 offers ample memory, up to two professional GPUs, and plenty of hard drives.
BOXX workstations are trusted resources used in-house at ActionVFX by our Product Creation team! Remember, spend $100 or more in your cart and have a chance to composite alongside us with your very own BOXX APEXX A3!
The winner of this computer will be subject to participate in a testimonial with ActionVFX and BOXX Technologies. The winner will be announced across our social media and email, so make sure to follow us to stay updated!
Click here
if you want more details and specs about the computer you have a chance to win.
How To Get Ready For The Sale
First things first, mark your calendars! The sale begins November 28th, and will end December 6th. That's ample time to grab all the VFX stock footage you've been needing. The earlier the better though, as you can save more in the first 24 hours than you can the rest of the sale!
Head on over to our
Black Friday page
and sign up to be reminded of the sale. After that, you can jump over to our
massive library
and plan your attack.
There are plenty of new products we have already released, and there is more on the way!
Finally, make sure to go follow us on our social pages, which can be found below! You can stay up to date with announcements and receive reminders to buy the VFX stock footage over half off! See you there!
YouTube
-
Facebook
-
Instagram
-
Twitter
-
Linkedin