If you're a VFX artist or filmmaker, check out the updates Adobe has to offer your Creative Cloud workflow moving into 2020!
At the recent Adobe MAX 2019 conference, Adobe unveiled numerous updates and hints at what's in store for the future of the Creative Cloud Suite. If you've been interested in what updates to look out for as a VFX artist, we've got you covered with nine updates that can help you produce VFX more quickly across Creative Cloud apps.
Let's dive in!
After Effects CC 2020 (Version 17.0)
1. Faster Content-Aware Fill for Video
After Effects' spring update saw the rollout of the incredibly useful Content-Aware Fill for Video tool. When it first launched, it was already pretty lightweight, but now they've made it even faster.
Thanks to software improvements, they've made Content-Aware Fill for Video twice as fast, using only half the memory. That's pretty impressive!
2. New Cineware Renderer and Cinema 4D Lite R21
A huge advantage of After Effects CC is the fact that users receive industry-standard third-party tools. This update sees the addition of
Cinema 4D Lite R21,
the newest version of C4D Lite. There's also an updated Cineware Renderer, which you can learn more about
here
.
3. Vastly-Improved Preview and Playback

One of the biggest pain points in After Effects has been dealing with the notoriously slow preview and playback. In this update, they've leveraged a new GPU-accelerated display system core to generate much smoother and faster previews. Performance may vary by system, but it's nice to know Adobe is making strides toward a more streamlined experience in After Effects.
4. Easier EXR Workflow

Compositors will be glad to know layered OpenEXR Bitmap files can be directly imported as compositions, similar to how Premiere Pro handles .PSD file imports. This allows you to retain individual layers and apply effects directly to each one without the need for a tedious setup process.
5. Faster Expressions
If you haven't already noticed, a major recurring theme in After Effects 2020 is performance enhancement and faster iteration.
As far as expressions go, when working with expressions that remain unchanged throughout your composition, you can now see them process up to 40% faster on all frames within the comp.
Premiere Pro CC 2020 (Version 14.0)
6. Export for HDR with HDR10 Metadata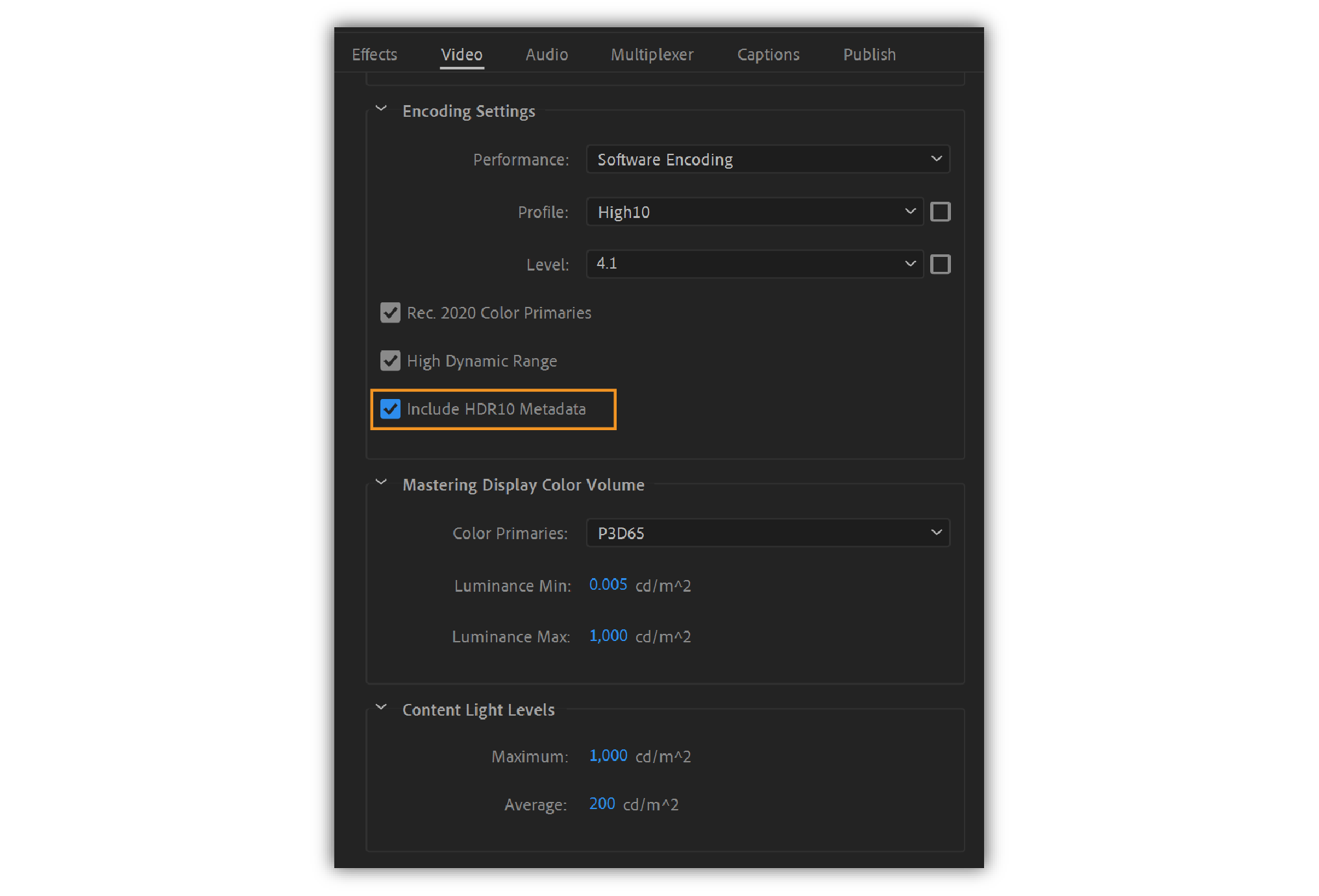 Premiere Pro now allows you to work more easily with High-Dynamic Range (HDR) content. When choosing your encoding settings, select
Rec 2020 Color Primaries, High Dynamic Range,
and
Include HDR10 Metadata.
7. Optimize Content for Social Media with Auto-Reframe
As a VFX artist, it can be so rewarding to share your VFX work on social media, providing you aren't violating an NDA! It's also a great way to earn new clients, network with other VFX artists around the globe, and advance your career.
You can now share your work more effectively with Auto-Reframe, which utilizes Adobe Sensei AI technology to perfectly frame your shots for social media and mobile devices, while retaining focus on the action in the video.
Photoshop CC 2020 (Version 21.0)
8. iPad Cloud Document Integration
You can now access Photoshop documents on an iPad with cloud integration, which is perfect for pre-vis reference on set. You can also use this to make notes and adjustments to Photoshop files during filming and store them for reference once you're in post-production.
9. New Object Selection Tool
Without a doubt, the star of Adobe's latest Creative Cloud updates has to be Photoshop's new Object Selection Tool, which aims to make accurate image selections a breeze. Want to extract a subject from a photo onto a new layer for compositing? No problem!
Hopefully, this will mean the end of so much time spent making tedious selections in Photoshop and let you get to focus on the fun and creative aspects of VFX production.

Which feature are you most excited about? Let us know in the comments below!
If you're interested in seeing everything covered at Adobe MAX's biggest presentation this year, you can watch the full two-and-a-half-hour keynote below.
Ready for our
Black Friday Sale
? It starts November 28th at 8:00 pm EST! Don't miss the chance to buy industry-leading VFX products at 55% off!
First time here? ActionVFX creates action stock footage for visual effects and filmmaking. (We also have some great
free stuff
!)
Want to see more blogs? Scroll up to the top and select a category or simply the "All" button for the most recent entries.
Remember to connect with us on our social networks to stay updated on our latest news, giveaways, announcements, and more!
YouTube
-
Facebook
-
Instagram
-
Twitter
-
Linkedin