Using these resources to maximize your workflow
Hey guys, Luke here. I've put together a list of three VFX resources I use, that a lot of people don't really talk about. So give them a go and let me know what you think!


We first learned about Movidiam when our team went to NAB in Las Vegas this past April. It isa social network specifically built for Creatives to connect and help manage projects. It shares some similar traits to Linkedin, but is specifically designed for video, which is the name of our game. :D
Movidiam includes all of the basic features you'd expect from a social network, but it also offers more of a professional side of things.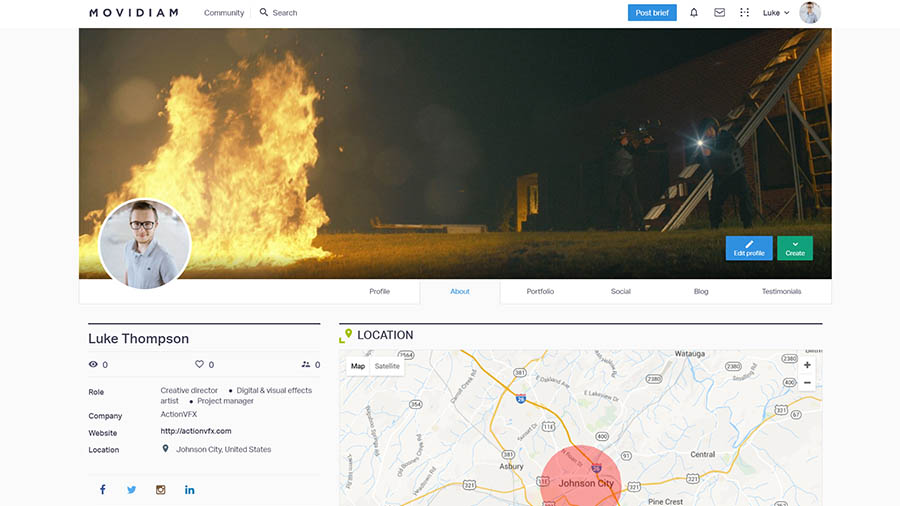 One of the biggest features Movidiam promotes is Project Management. This feature allows you to build your own or join a preexisting team to begin collaboration on a project.
They make it really easy to assign and track tasks to certain team members so you can always know what each individual is doing. Something else worth noting is your team can leave feedback markers on the timecode of your current video, which is very helpful.
Another cool feature is the team calendar. I'm a huge advocate of organization, and this built-in calendar helps keep everyone on track.
Movidiam offers a free basic membership, which is pretty much all you would need, unless you have a large team or are working with bigger files. The basic version includes 2GB of personal storage, and you can collaborate with other people.
As always, you can upgrade based on personal storage, your team size, etc. All of those specifics can be found on their
Membership Page
.
In summary, networking and making videos are two of my favorite things. Create an account
here
for free and get video-specific networking!
FutureLearn is a
FREE
educational service that focuses on instilling practical knowledge on a variety of subjects and offer classes from major universities all around the world.
They offer general filmmaking and production related courses, along with VFX specific classes. You also have the option to purchase certificates at the end of each course, which is something that shows an employer that you're self-motivated and adds credibility from a major university. These certificates can make a really great addition to your professional portfolio.
FutureLearn allows you to interact with others that are taking the course with you, making it a great way to network with other people in your field and showcase your creativity and talents.
As an added bonus, our friends over at
HitFilm
are partnering up with FutureLearn, Norwich University of the Arts, and MPC (Motion Picture Company) to instruct a course titled "Visual Effects for Guerrilla Filmmakers" starting on
August 8th
. Enroll for free
here
.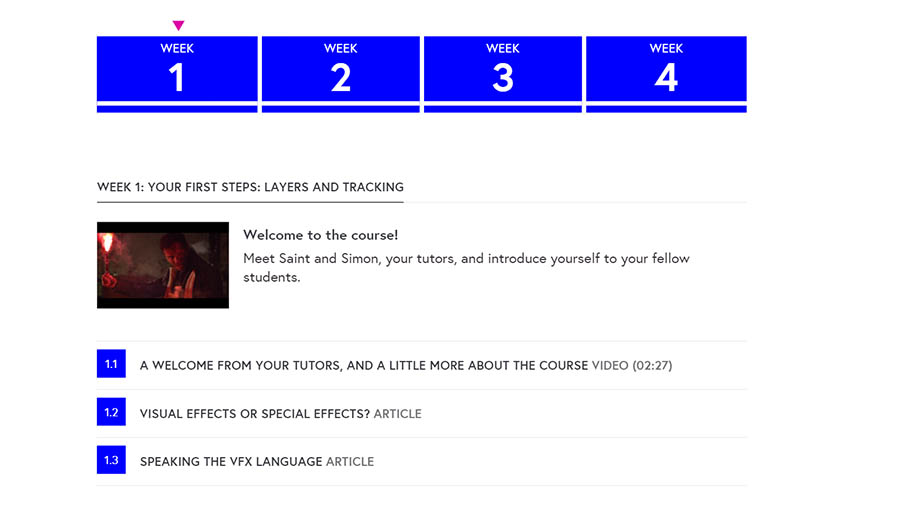 I personally had the chance to take this course when it was offered last year and it has a wealth of information to offer. While this course is mainly geared for lower budget Filmmakers and VFX artists, it still inspires a lot of creative ideas and techniques that can translate to any level of expertise.
FutureLearn is a valuable
free
resource that needs to be taken advantage of. Did I mention that it was
free
?
Do you ever find yourself having to exchange a million emails to a co-worker or client just to see how they like a slight change you made to your video? Emailing is the tried and true method, but literally takes forever. If you're wondering of a better way to do this, you're in the right place.
Frame is an up-and-coming cloud based project management service that is the answer to your workflow prayers. Think if Dropbox and Vimeo had a baby, it would be Frame. It is built to collaborate on projects, gather specific feedback, and get a more accurate description for the vision that your team is trying to create.
Your clients and peers don't have to pay to leave feedback on a project, all they need to do is create a free account. And I like free. The basic account still gives you 2GB of storage and one project to work on at a time. It also allows you to have five collaborations at a time.
Another sexy feature that will save you a lot of time is that the online viewer supports a ton of different codecs so you don't have to transcode the file each time you upload. Frame is also integrated into Premiere Pro CC and Final Cut Pro X, so the uploading process is seamless.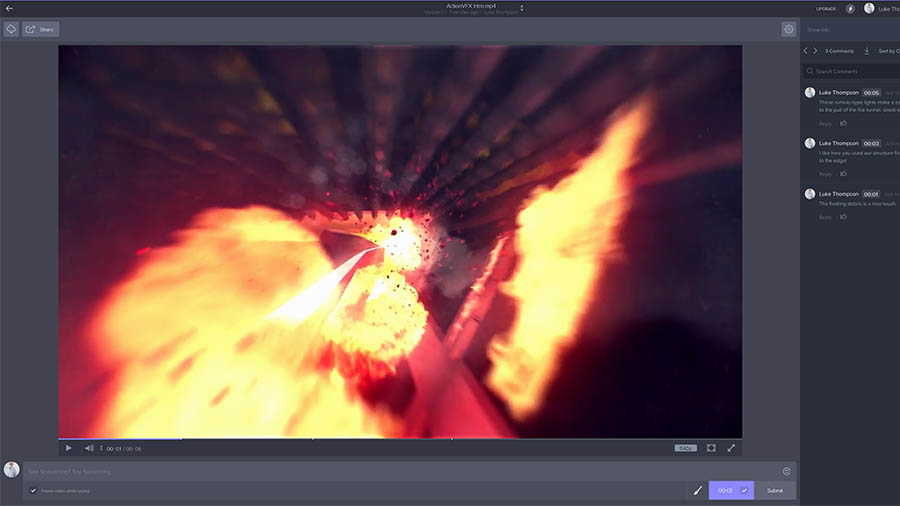 Frame offers 256 bit SSL encryption in transit and at rest. Every change made to the project has to be authenticated by a user ID that is associated with your team, but you still have the option to send sharable links to people outside of Frame, if it's not extremely top-secret.
Overall, Frame is aimed to increase communication within your team, which in turn increases productivity. It will cut down on feedback getting lost in translation through hundreds of emails, and is an extremely helpful tool for not just artists, companies, and teams, but it is also a very valuable tool for your clients.
Is there another tool that I missed? Want to learn more? Talk about it with the community on the
ActionVFX Facebook Group
. Until next time!
First time here? ActionVFX creates action stock footage for VFX and filmmaking. (We also have some great
free stuff
!)
Remember to connect with us on our social networks to stay updated on our latest news, giveaways, announcements and more!