We're collecting all the biggest deals for VFX and compiling them all right here for you! Bookmark this post!
Take the hassle out of searching for deals and use this blog as your starting point for finding the best deals for VFX!

This is not an exhaustive list! We will be adding to this blog as soon as the news becomes available, so make sure to check in with us multiple times so you stay on top of the industry's best deals!


Of course, we have to let you know about our sale! Starting on November 28th at 8:00 pm EST, our entire library will be 55% off! After the first 24 hours, our library will then be 50% off until December 6th! Make sure to take advantage of the best savings during the first 24 hours!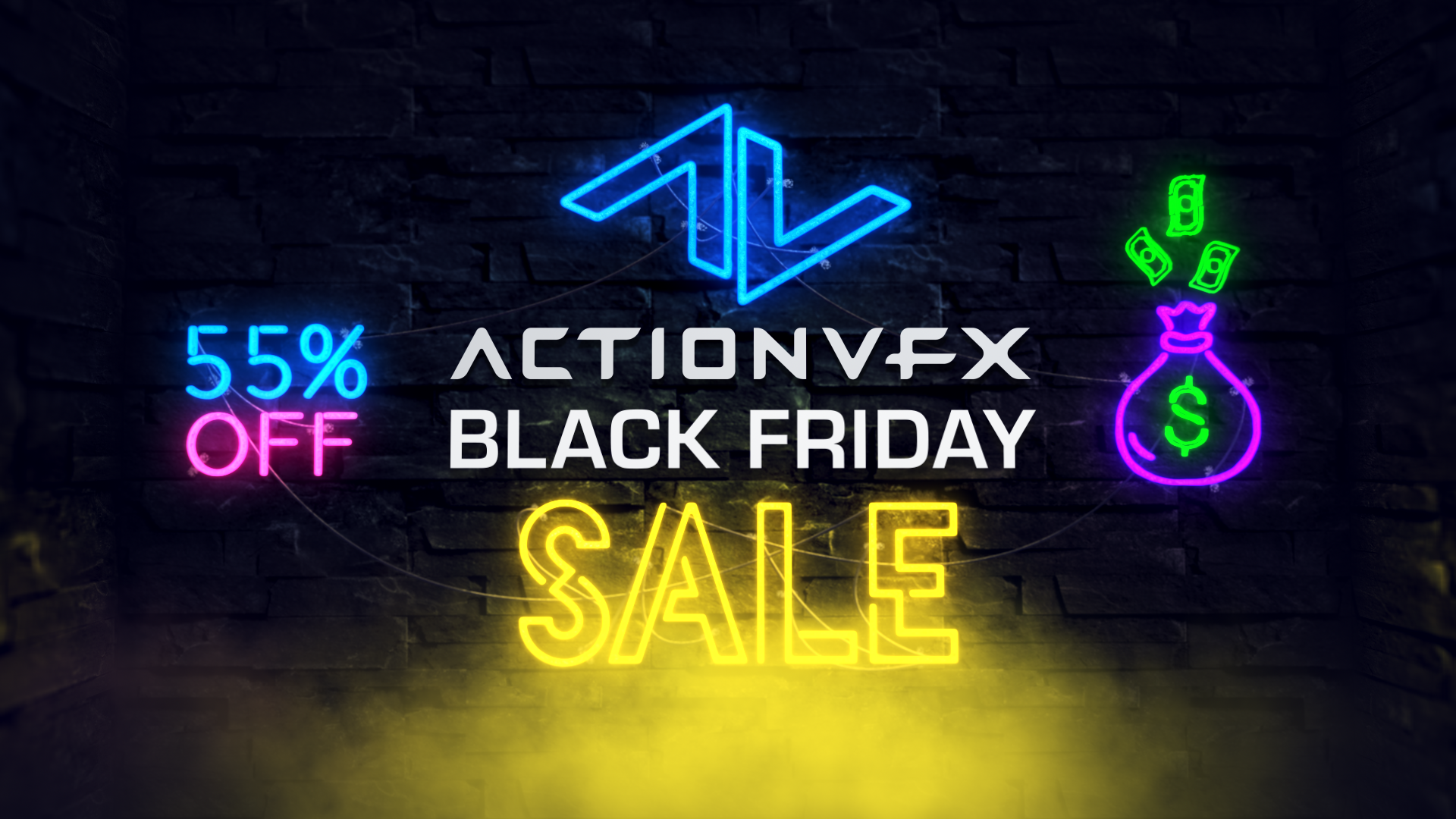 Head on over to our
Black Friday page
to learn all the details, including how you could win a $3,000+ BOXX Technologies computer!
Our good friends over at Ukramedia has their Black Friday sale active right now! Use promo code "actionvfx" and it will apply a 50% off discount code (excluding t-shirts) now through December 6th.

Their site is full of courses and time-saving tools to make your life easier. You can browse their After Effects video courses and tools that are trusted by professionals everywhere, including Adobe, Fox, Verizon, and many more.


It's the biggest sale of the year for BorisFX! You can get up to 50% on their award-winning VFX! Don't miss your chance to get some of the best VFX plug-ins and tools offered on the market!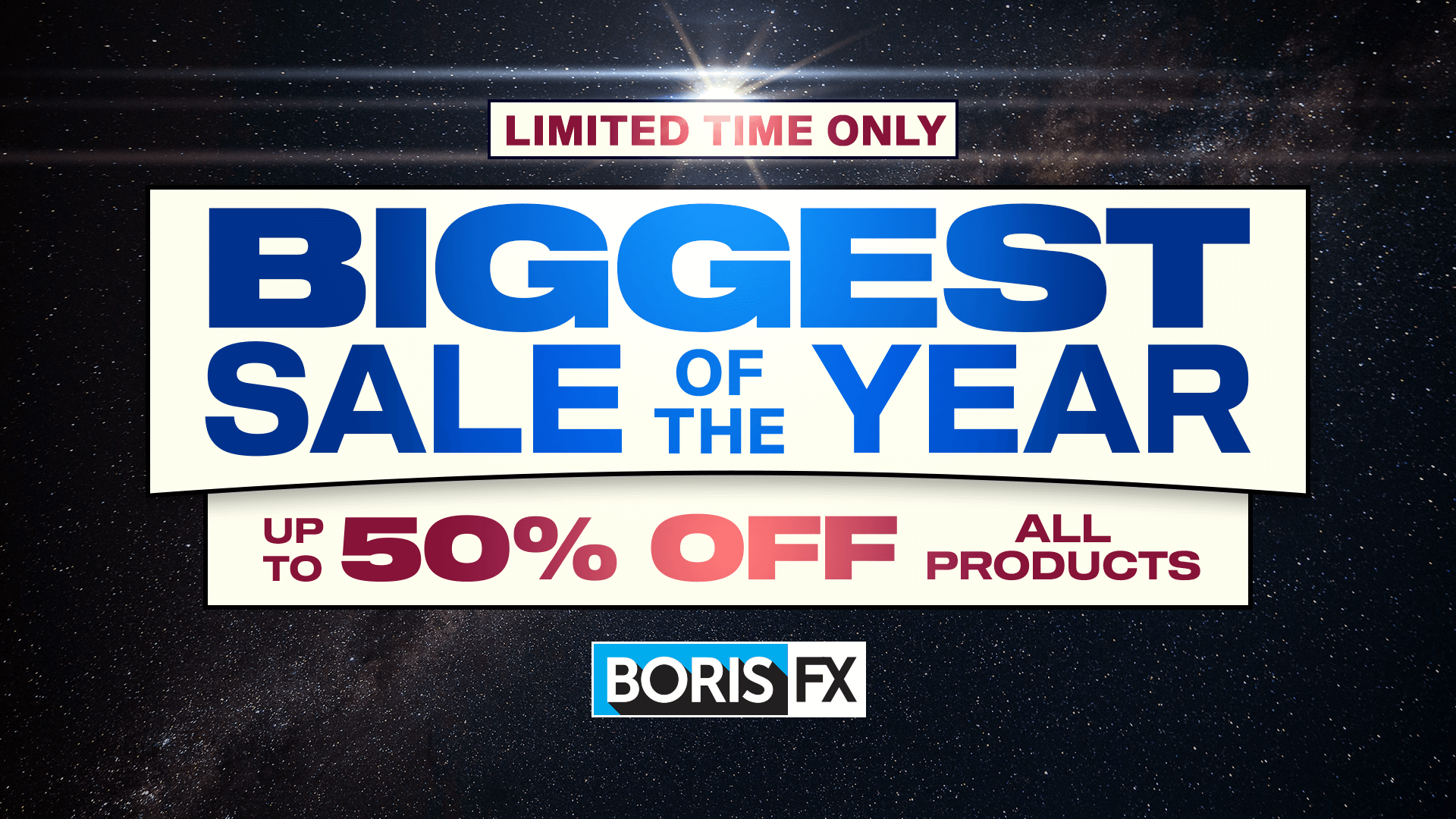 Toolfarm is the leading third-party reseller of After Effects plugins and tools! They're currently running deals if you head over to their
on-sale products
!
Starting on Cyber Monday, December 2nd, they will be having a 25% off everything sale! This great deal ends on December 6th! This site is a great source for tools for leading 2D and 3D software like After Effects and Cinema 4D! Increase your workflow this Cyber Monday!


Need I say more? FXhome, the makers of
HitFilm
, will run some amazing deals! From November 26th to December 2nd, take up to 40% off their software! Make sure to stop by and pick up items like
HitFilm Pro 13
,
Imerge Pro 4
,
Ignite Pro 4
, and much more that are used by professionals all around the world.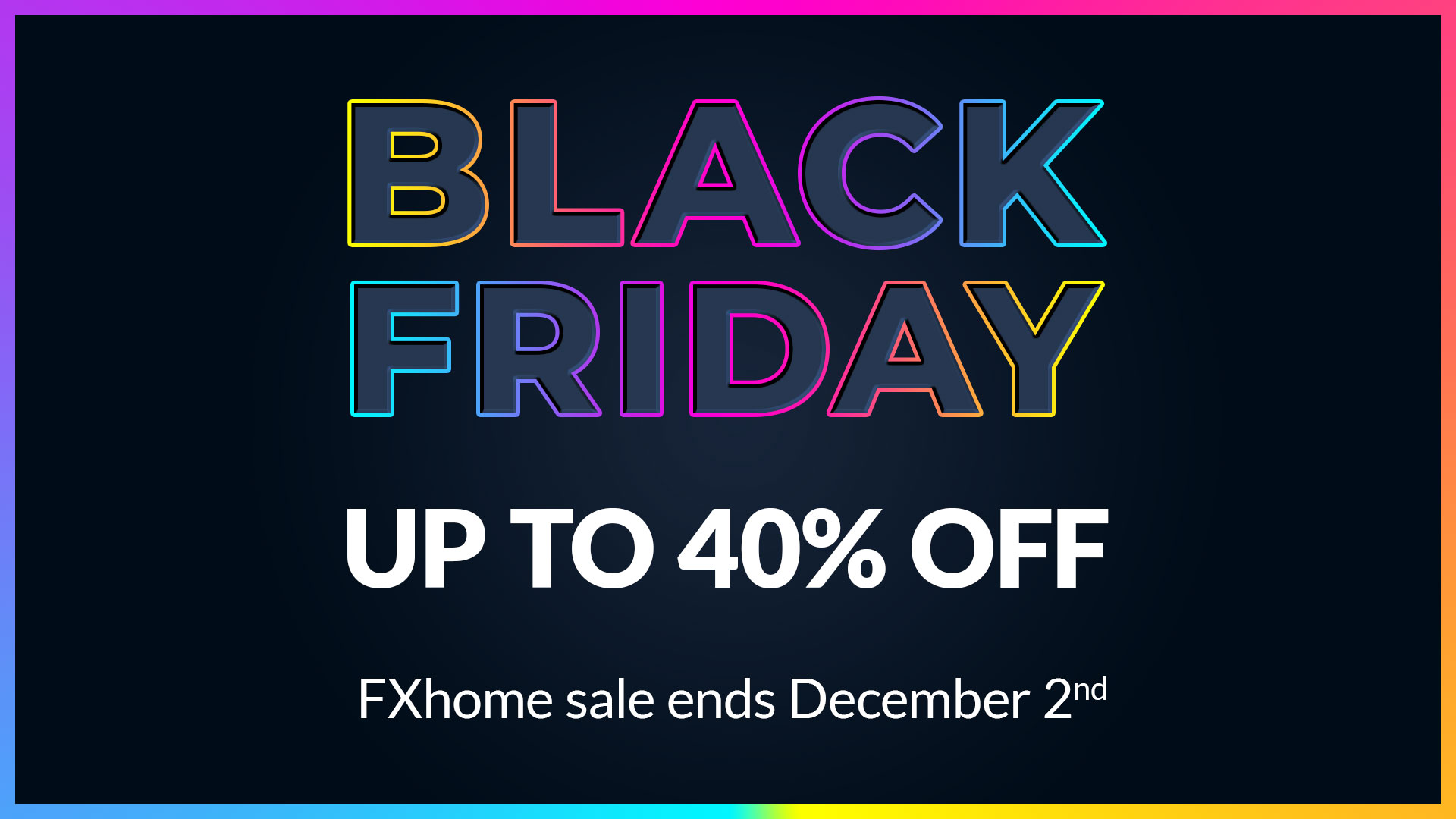 KitBash3D is a company that creates massive 3D digital worlds! Just by visiting their website, your imagination runs wild with ideas you could run with! Their whole library is 50% off!


The Futur is a company on a mission to serve creatives and business minds alike. They sell courses like logo design and typography, as well as tools and lectures. Their upcoming deal on November 26th involves the Advanced Strategy Bundle!

Right now, the Creative Cloud is running an impressive deal! You can get all the apps for $29.99 monthly, instead of the $52.99 monthly price. You can also go ahead and get the prepaid version as well for a great deal! That pricing is listed at $359.88/yr instead of $599.88/yr!

This offer lasts until November 29th. Jump on this deal!


The creators of unique After Effects tools, Battle Axe has some great deals on their website. Get 30% off at checkout with promo code TOASTY19.


A company passionate about CGFX, Effective TDs offers software and educational tools, as well as a forum for people to collaborate. With some products being half off, they deserve a look!


If you're more of a Final Cut Pro person, this is the stop for you! From Cinema-Look Tools and Image Manipulation to Tracking and Animation, they have the plug-ins you need! The sales are active right now!


Filmstro provides unique music software and plug-ins where you use three sliders to create the music that best fits your edit! It's that simple! They're running a 40% off sale on annual licenses right now! Find the perfect music for the environment you're creating by mixing
Momentum, Depth, and Power
.
We all know how frustrating color grading can be, but thankfully FilmConvert makes fantastic plug-ins to increase your color grading workflow! They seamlessly fit into popular software such as After Effects, Resolve, Final Cut, and more! Sales are live on their website now.


If you're a Cinema 4D user then this sale is for you! Ace5Studios has outstanding tutorials and premium character rig packs, and the character packs are 50% off! You have until close of business on Cyber Monday.


This website has a plethora of information and tools to enhance your VFX experience. They specialize in Cinema 4D, but they also make tools that make the cooperation between C4D and After Effects feel seamless! Head over to their store for some discounted tools!


Another great audio-oriented website for your edits is iZotope! They're the mind behind incredible software, plug-ins, and hardware, among others! If you want intelligent audio technology up to 60% off, this is the place for you.
Working in Blender? Well, BlenderMarket is exactly what its name suggests! They have everything Blender such as materials, shaders, and textures for you at 25% off.


FXPHD is a subscription-based VFX, post-production, and motion graphics training program lead by industry professionals! With over 250 courses, it's a goldmine for enhancing your skills. Everything is 30% off. The sale ends on Monday, December 2nd!


Turbosquid has some of the best 3D models for professionals. You can save up to 50% on their huge library! The sale ends in 4 days!


If you're a VFX artist using Cinema 4D, Insydium makes fantastic products such as their X-Particles, an advanced particle and VFX system. You can get 40% off right now through December 3rd using code BLACK.


Corel produces award-winning products that include graphics, painting, photo, and video, among others. If you head to their site, you can save up to 60% on products along with bonus items! Hurry, the sale ends in less than 24 hours!


Affinity Photo is a great software option for photo editing! Affinity is used by professionals all around the world and includes tools for any type of photo editing you would need to do. They are currently running a 30% off deal!
Isotropix develops professional graphics software and wants to provide CG artists with the tools to succeed. You can get their Clarisse software today for a major discount! You have until December 3rd!


With packs ranging from plant and garden models to parametric modeling for 3ds Max, iToo creates some great plug-ins to increase your 3ds Max workflow. Get 25% off on their store now till Cyber Monday.


Another great source for your 3ds Max workflow is Kinematic Lab, who is trusted by industry giants. From rigging, particles, animation, and much more, you can get it 50% off up until December 12th!