Too much online shopping stressing you out? We've done some leg work for you!
After your Thanksgiving meal, most people are hitting the stores to save on massive deals. Tracking down these deals can be the most frustrating part! Thankfully, your friends at ActionVFX have put together a solid list of deals that all filmmakers need to know about!

This is not an exhaustive list, so we will be adding companies and sale information to the blog as soon as the news becomes available.


Of course, we have to let you know about our sale! Starting on November 28th at 8:00 pm EST, our entire library will be 55% off! After the first 24 hours, our library will then be 50% off until December 6th! Make sure to take advantage of the best savings during the first 24 hours!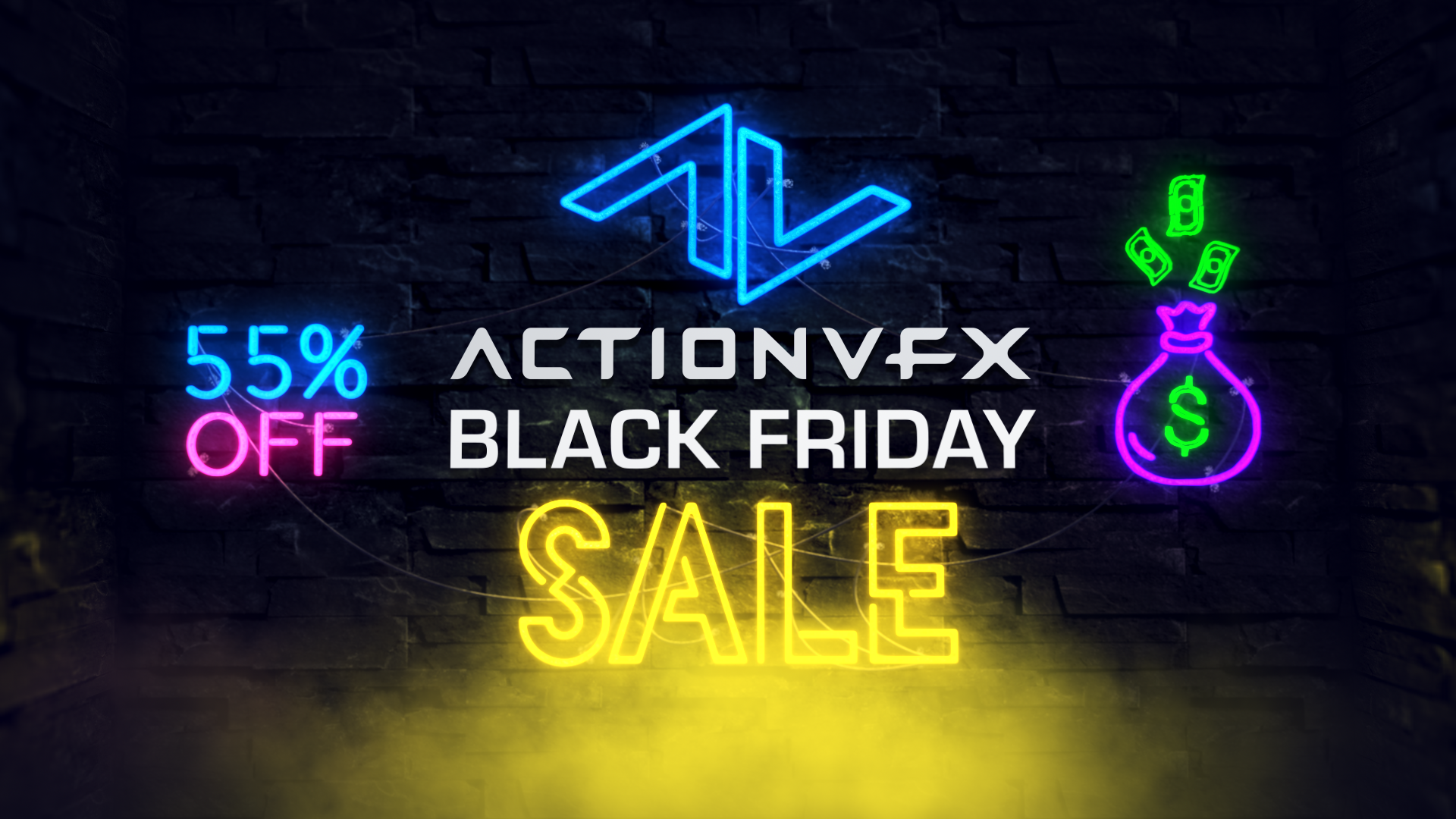 Head on over to our
Black Friday page
to learn all the details, including how you could win a $3,000+ BOXX Technologies computer!
B&H is a massive provider for all things electronic. From photography, lighting, audio — you name it, they've got it. For all things filmmaking, you can head over there now for their "
Holiday Head Start
" deals and start saving now!
We all know Sony makes a wide array of products, but they do make some fantastic filmmaking equipment! Luckily, they have provided a complete
promo list
of some of the camera deals!
A steadfast store for filmmaker needs since 1974, Adorama will be running their Black Friday sale. From cameras and computers to audio equipment, they have tons to offer you. There's no specific details yet in regards to the sale prices, but they are
running promotions
right now!
SmallHD sells industry-grade on-camera and production monitors, as well as camera control software for monitors! Their Black Friday Sale is currently live!
Save over $900
now until Cyber Monday.
Right now, the Creative Cloud is running an impressive deal! You can get all the apps for $29.99 monthly, instead of the $52.99 monthly price. You can also go ahead and get the prepaid version as well for a great deal! That pricing is listed at $359.88/yr instead of $599.88/yr!

This offer lasts until November 29th. Jump on this deal, as the CC Suite has every application to make your next film a success.


If you're more of a Final Cut Pro editor, this is the stop for you! From Cinema-Look Tools and Image Manipulation to Tracking and Animation, they have the plug-ins you need! The sales are active right now!
Having the right sound FX can make or break your film! Enter Boom Library! They have massive collections of sound FX ready for the taking. Swing by to grab some products that are up to 50% off! If you buy three products, one will be free!


Filmstro provides unique music software and plug-ins where you use three sliders to create the music that best fits your edit! It's that simple! They're running a 40% off sale on annual licenses right now! Find the perfect music for the environment you're creating by mixing
Momentum, Depth, and Power
.
Another great audio-oriented website for your edits is iZotope! They're the mind behind incredible software, plug-ins, and hardware, among others! If you want intelligent audio technology up to 60% off, this is the place for you.


The Futur is a company on a mission to serve creatives and business minds alike. They sell courses like logo design and typography, as well as tools and lectures. Their upcoming deal on November 26th involves the Advanced Strategy Bundle!
Aputure provides affordable and professional cinema equipment that can handle your next film! You can get nearly 30% off their lighting equipment! Sale lasts till December 2nd.


Soundstripe is a mega-library of playlists, songs, and sound FX. They are currently running deals on their standard and yearly licenses!


The maker of professional color grading LUTS, CINECOLOR prides itself on color grading LUTS that works with any camera. Check their product collections out at 25% off! You have one week to do so.


Save up to 40% on drones, gimbals, accessories, and more! DJI is a massive store full of amazing products. Take advantage of their deals! You've got until December 4th.


Sigma is having a huge sale on cameras, lenses, flashes, and more! With the help of Sigma, create the image or video you've envisioned.


The crew at Teradek are the minds behind brilliant video solutions for broadcast, cinema, and so much more. Save thousands of dollars now by clicking the link!


In need of gear? They are having a flash discount! Head on over to Magnanimous' website and book a rental for the equipment that can make the project that you once thought wasn't possible, possible. The discount ends in 3 days.


Kessler Crane is your one-stop-shop for all professional motion control equipment such as cranes, jibs, sliders, and more! Save up to 25% off on their site right now through December 1st.


Specializing in vintage photo lenses for use on new mirrorless and motion picture cameras, Simmod Lens is a unique site that sells incredible products. You can get 25% off now with promo code BF2019.
---
Remember, we will build upon this list as information becomes available, so make sure to stop by more than once to see what we've added!
Stay up to date with us on our socials to stay informed on ActionVFX sale news!
YouTube
-
Facebook
-
Instagram
-
Twitter
-
Linkedin