We are participating in a yearly sale event many companies take advantage of… you may have heard of it. It's during the time of year when you gather with family and friends to reflect on what you are thankful for, then get your boxing gloves on to face the long lines and other people desperate for good deals on products they've been saving up for all year. Come on everyone, it's BLACK FRIDAY!

We are doing some things a bit differently this year. Yes, we are still having a 50% off sale on our entire library of action stock footage, but this time it's for an entire week!

Starting at 8pm EST on November 23rd, we will have all of our products available for 50% off. The sale will end on December 1st at 11:59pm EST.

Be sure to use promo code: BF2017 at the checkout page to claim the discount. This code has unlimited use during the period of the sale.

In addition to our usual 50% off, we've got two more things we're adding into the mix! Check out the details below.


Sign Up And Save Event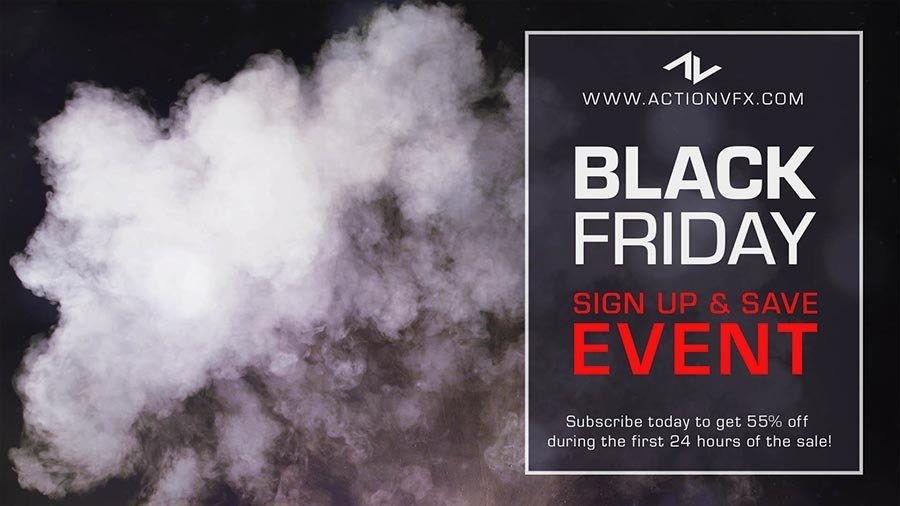 We have decided to sweeten the sale a bit more this year and offer all of our subscribers an

So, for the first 24 hours of Black Friday, everyone who is subscribed before the sale begins at 8pm EST will receive an email with a special 55% off code to use. This code is not limited to just one use, so use this as many times as you'd like before it expires.

The regular 50% off sale will be live during this time as well, for those who sign up late.

After you use the 55% off code, or the code expires, you will still be able to take advantage of our 50% off sale with the code mentioned above for the remainder of the week.


The ActionVFX Drive Giveaway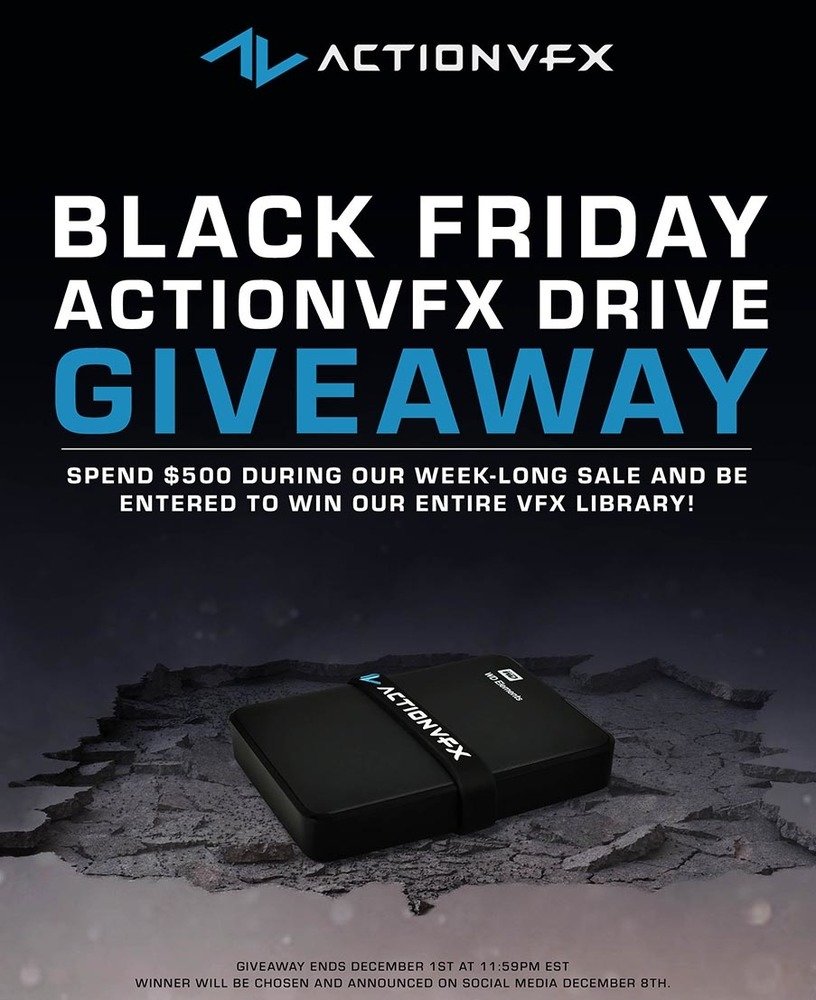 To make the sale even better this year, we are adding a little "fire" under your feet by giving away an
ActionVFX Drive
!

Everyone who spends $500 or more during the Black Friday Sale will be entered into a randomized drawing for the chance to win a single-user license ActionVFX Drive with our entire library contents on it.

Those who decide to buy a Drive during the sale will be excluded from the drawing since they will already have our entire library.

We will announce the winner of the giveaway on December 8th and post the video on our YouTube channel and social pages. We will also be in contact with the winner via email to congratulate them and verify their mailing address.

These are the main things that are different in this year's ActionVFX Black Friday Sale. Our library is still 50% off for a week, but we added a couple things to blow this sale sky-high!
If you haven't subscribed to our email list yet, you can do that
here
so you can take advantage of our product being 55% off for the first 24 hours.
Click
here
for more details on The ActionVFX Drive Giveaway.

Overall, we are super amped up to kick off this holiday season with our annual Black Friday Sale, and we think hosting these extras will get you guys more pumped for adding our products to your projects!
First time here? ActionVFX creates action stock footage for VFX and filmmaking. (We also have some great
free stuff
!)
Remember to connect with us on our social networks to stay updated on our latest news, giveaways, announcements and more!